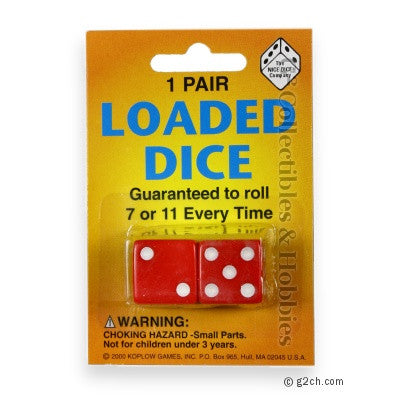 Trick Mis-spotted Dice Pair - Opaque
---
Quantity: 2 Dice
Type:

Specialty D6

Pattern: Opaque
Primary Color: Red
Number/Pip Color: White
Size:

19

mm

Manufacturer: Koplow 
Koplow game titles this pair of dice as "loaded," and for item title purposes that is what we use as well. But in our minds these dice are really trick dice. What's the difference you ask? It's simple really. This pair of dice is numbered with nothing but 2, 5, and 6. One die is numbered in 2s and 6s and the other die is completely numbered in 5s. When you have this combination, it is of course guaranteed that you will roll 7 or 11 every time. It's impossible to roll anything else. Of course, shortly after rolling you will want to get these back in your hand and off the table before someone happens to notice the trick.

Note that we do not recommend actually using these for the purpose of cheating at dice games. You will be busted and the repercussions will not be friendly we assure you. However, they do make a great party trick.

Each die is opaque red with white pips and measures 19mm tall.
---
Share this Product
---
More from this collection