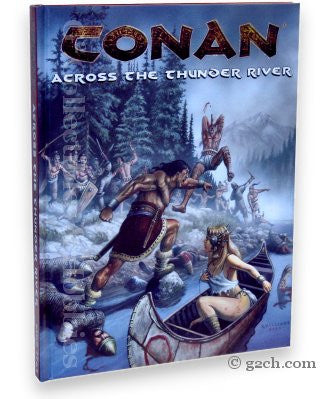 Conan RPG: Across the Thunder River
---

"A dark and sinister presence prowls the edges of the Hyborian landscape, a savage power, unseen by most of the world; they are the Picts. Dark and mysterious, lurking in dim forests and dank swamps, these barbarous villains of the Hyborian Age are a primal force that will ultimately unleash its collective rage to topple civilisation in a wave of savage devastation.)

This book is intended to give players and game masters alike the resources to bring these terrible adversaries to life. For those who intend to play settlers in the wild Westermarck - beware! This book will also be useful for players who wish to play a Pict in Conan the Roleplaying Game, providing detailed background information allowing the portrayal of an exciting and believable Pict who is more than a dull-witted and bloodthirsty savage. Meanwhile game masters have revealed to them the world of the Picts, their barbaric culture and horrific sorceries, their secrets and dark mysteries." (from the back cover)

Across the Thunder River is a 192 page hardback bound book with color illustrations throughout. Use of this book requires Mongoose Publishing's Conan the Roleplaying Game.
---
Share this Product
---
More from this collection