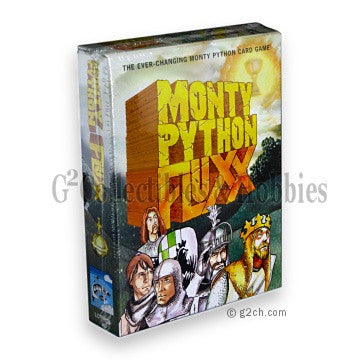 Monty Python Fluxx Card Game
---

And now for something completely different… It's Monty Python Fluxx - the card game where it's fun to make your brain hurt. Get a shrubbery for the knights who say Ni! Build a giant wooden rabbit! And since it's Fluxx, you can expect the rules to constantly change… but don't expect the Spanish Inquisition! (from the back of the box).

Looney Lab's Fluxx has been a major hit since it was first created. The card game is known as simple to learn and fun to play for the entire family. Now with this collaboration of Toy Vault and Looney Labs we have a Monty Python version of Fluxx, all the fun of Fluxx with all the zany amusement of Monty Python. For Python fans, it just won't get any better than this.

Monty Python Fluxx is a card game for 2 to 6 players ages 8 and up. It plays in an average of 10 to 40 minutes.
---
Share this Product
---
More from this collection