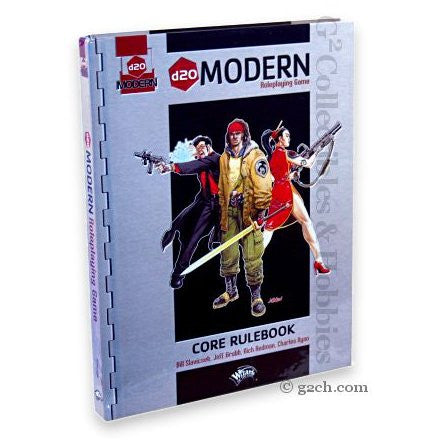 D20 Modern RPG: D20 Core Book
---

If your group plays in any modern setting, this is a must have resource. The D20 Modern Roleplaying Game was designed to be the core of all modern D20 game campaigns.

Everything you need from character creation with feats and skills to equipment and modern combat is covered in this book. There are also several prestige classes included (such as gunslinger, bodyguard, and negotiator).

For the gamemaster, there are sections on running D20 modern, and extensive list of NPCs, and three campaign models to choose from. Even better, if you're the type of gamemaster who prefers your own thing, then the D20 Modern book is a simple framework that you can build your own game world around.

If you're planning a game in the modern period, there is no book more important than this one to begin with.

The D20 Modern core book is a 384 page hardback bound book with color illustrations and an index. This is published by Wizards of the Coast (WotC).
---
Share this Product
---
More from this collection