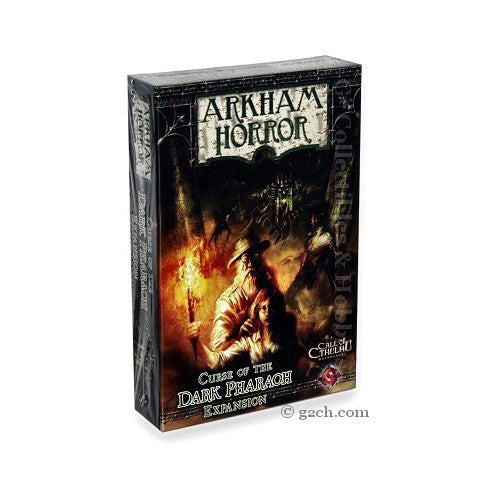 Arkham Horror: The Curse of the Dark Pharaoh
---

This new expansion for Fantasy Flight Games' Arkham Horror board game unleashes diabolical evil and unnatural crises upon Arkham in the form of the Curse of the Dark Pharaoh. A museum exhibit from mysterious Egypt has come to Arkham. Benignly titled ?Legacy of the Pharaohs,? the exhibit soon causes an influx of foreign cultists, supernatural events, powerful relics, and other dangers and mysteries, culminating in the all-too-familiar threat of an Ancient One awakening.

Once again, the investigators are the only ones who can, through luck, lore, and courage, stop it. Arkham Horror is a re-envisioning of the classic H.P. Lovecraft board game by Richard Launius. This expansion focuses on the thematic game play, amazing art, and strange tales that make the base game such a fan favorite. The expansion also introduces a few new card types, including 22 Exhibit Items (ancient relics from the visiting museum exhibit), 18 Barred from Neighborhood cards, 4 Benefit cards, and 4 Detriment cards. The expansion also includes 45 new Arkham Location cards, 27 new Gate cards, 18 new Mythos cards, 21 new Spells, and 7 Allies, for a total of 166 new cards!

Arkham Horror is a cooperative game for 1-8 players, ages 12 and up, that can be played in 2-3 hours.

The Curse of the Dark Pharaoh expansion requires the Arkham Horror board game to play.
---
Share this Product
---
More from this collection