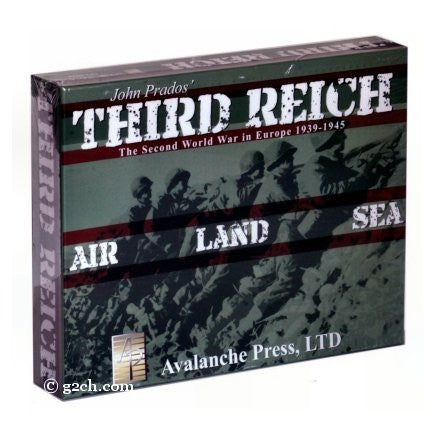 John Prados' Third Reich (2001 Edition)
---

The First World War left Germany a defeated, shattered nation. Fueled by a twisted philosophy and a desire for revenge, the Germans started the Second World War with a string of victories. But together, the free democracies of the West and the Soviet Union smashed Hitler's dreams of world domination. The Thousand Year Reich lasted a mere 12 years.

John Prados' Third Reich 2001 Edition is a sweeping game of World War II. One of the best known board games ever published is back in an all new edition for a new century. Beautiful new graphics and streamlined play will make this game a new classic all over again. Two to six players, ages 10 and up, guide the destiny of Germany, Britain, France, Italy, the United States, and the Soviet Union as well as many minor powers. Eight Scenarios are included (one for each year of the war), each playable in an evening, plus a campaign game of the entire war in Europe. (from the back box cover)

Third Reich covers all aspects of the war, the air, land, and naval battles, as well as the political and economic each nation faced. For a complete wargame of World War II, Third Reich can be linked with The Great Pacific War.

Avalanche Press is known for its high quality, easy to learn war games with quality maps and counters. Whether you are a Grognard or new to war games, you will appreciate the amount of effort that this company puts into its game.
Time: 3 to many hours
Players: 2 to 6
Map Scale: 60 miles/hex
Unit Scale: corps and fleets
Counters: 840 1/2 inch
Maps: 3 8.5x22 inch hard-mounted
Rules: 32 page rules & many scenarios
Difficulty: 3.5 of 5 stars
Solitaire Play: Good
---
Share this Product
---
More from this collection