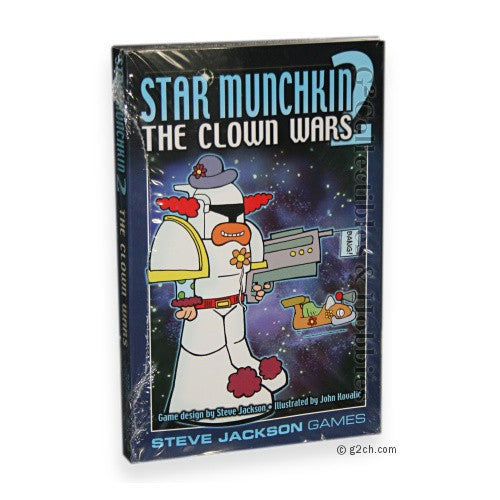 Star Munchkin 2: Send in the Clowns
---
Send In the… Yes, you guessed it! Star Munchkin 2 brings the epic saga of The Clown Wars to life, except with better acting . . . Star Munchkin took the rules-bending, power-gaming, dungeon-crawling madness of the original Munchkin and put the whole thing in space. And this supplement makes it even worse . . .

Strap on the new Sprayser or X-Rayser and go ray-gunning for new monsters like the Nerds of Prey! Play a new race (the Bugs) or class (Space Ranger), and do it all with Ralph, the Wonder Dog by your side. And now there's a new card type: Rooms. Just open the door, and . . . 'Oh, noooooooooo . . .!'

And, in the tradition of 'when you do something twice, it's a tradition' . . . Guest artists! Our thanks to Howard Tayler (Plasma Cannon, featuring Schlock), R. Stevens (Space Mummy), and Jon Rosenberg (The Cheese of Evil) for loaning us their characters. Schlock, Space Mummy and the Cheese of Evil are the copyrighted property of their creators and used by permission!

This is an expansion for Star Munchkin; you will need the original game to play. Or you could add it to a game of Munchkin or Munchkin Fu instead, or mix them all together for a Munchkin-fest of truly mind-bending proportions! (from the back cover)

Star Muchkin2 includes 112 cards and rules for the new card type (rooms). It comes in a wrap around sleeve sealed in plastic.
---
Share this Product
---
More from this collection