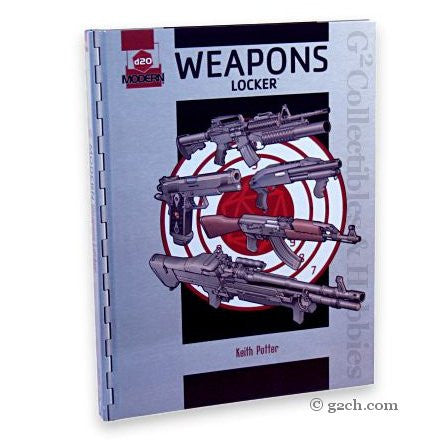 D20 Modern RPG D20 Weapons Locker
---

Lock and load! With the D20 Modern Weapons Locker book you will always have the right tool for the job at hand. From pistols and assault rifles to grenade launchers and heavy machine guns it?s all here.

There is a multitude of weapons covered in this book. Each entry includes game statistics and information on the weapon, along with information on variants. Special rules for silencers, suppressors, bipods, and ammunition types are also covered in the front of the book. The majority of weapons also have illustrations that compliment the descriptions. The back of the book has two sections that cover weapons in use by various groups (such as the FBI, police forces, underworld criminals, etc) and a glossary that covers gun terminology for those unfamiliar with the language (such as bullpup, pintle mount, muzzle brake, etc).

Get this today and never go to another D20 modern game session without some backup. You just never know when you may need an M16a2 with an under the barrel M203 40mm grenade launcher. Be prepared.

Weapons Locker is a 192 page hardback bound book with black and white illustrations. This is published by Wizards of the Coast (WotC).
---
Share this Product
---
More from this collection