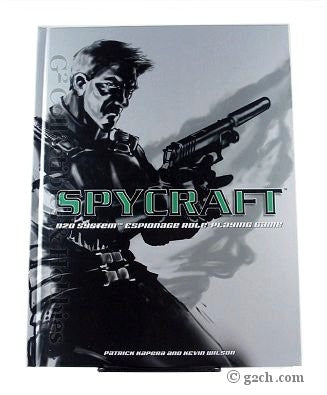 Spycraft Espionage Handbook
---

Gentlemen spies need not apply. The Spycraft Espionage Handbook, the core book for the Spycraft game, takes you to the edge of your seat and beyond. Set in a dark and gritty world of top secret organizations, clandestine operations, and plausible deniability, Spycraft is the game for players and gamemasters who want something more than fashionable operatives, silly villains who boast about their plan, and witty repartee.

Rules cover agent creation, skills and feats useful in the world of espionage, weapons and gear, combat, and chases. It is our opinion that the rules for chases are some of the best ever written on the subject. There are also sections on tradecraft (what does it mean to be a spy, types of missions, etc.) and gamemastering Spycraft.

This is fully D20 compatible; it can be played as a stand alone or even incorporated into another modern D20 game (for that matter, with some work it could be incorporated into any D20 game).

If you have ever wanted to run a more serious espionage campaign that keeps the action flowing and the danger high, then this is the spy game for you. Spycraft adventures are sure to leave your group shaken, not sleepy.

The Spycraft Espionage Handbook is a 288 page hardback bound book with black and white illustrations and an index.
---
Share this Product
---
More from this collection