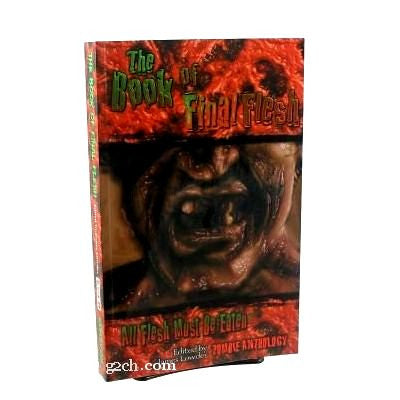 AFMBE Fiction: The Book of Final Flesh
---

The Living Dead Rule the World!

From the battle-torn skies over World War I France to the corridors of alien prisoner-of-war satellites, from the opium dens of exotic Victorian Shanghai to the living rooms of suburban America, zombies rise up! And they hunger. They crave revenge, or power, or love. Others desire nothing more than the brains of the living. All pursue their prey with relentless steps. They cannot be stopped. They will not be denied . . .

The Book Of Final Flesh presents two dozen tales of the living dead, original works by such notable scribes of the weird and fantastic as Sarah A. Hoyt, Tim Waggoner, Roland J. Green, Joseph Nassise, Ed Greenwood, Joe Murphy, Mark McLaughlin, and Scott Nicholson.(from the back cover)

The Book of Final Flesh is a 320 page soft cover, perfect bound book.
---
Share this Product
---
More from this collection