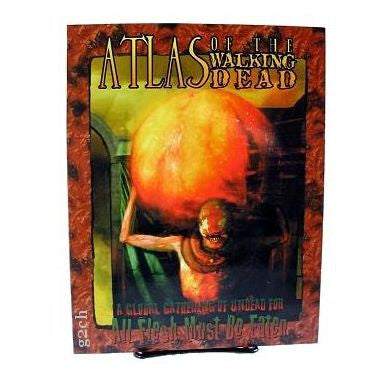 AFMBE RPG: Atlas of the Walking Dead
---

This sourcebook for the All Flesh Must be Eaten game by Eden Studios introduces more than sixty new types of walking dead from around the world. Drawing on traditions and cultures from all around the world, this book will give you the ability to take you All Flesh campaign global.

Perhaps players are part of a government research team sent out to see what is out there or maybe they thought they'd sit this out on a Caribbean island, wherever they go, there will be locals to contend with. Many of those locals are dead and they don't always play by the same rules as the dead the players already know.

This book also provides gamemasters with nearly fifty new zombie aspects for customizing zombies. There is also an appendix devoted to undead animals from around the world. To top off all this, the Atlas of the Walking Dead has more than sixty story ideas that a creative GM can pick up and run with.

The Atlas of the Walking Dead is a 110 page soft cover perfect bound book with black and white illustrations.

Use of this book requires the All Flesh Must Be Eaten RPG. This book is Unisystem compatible.
---
Share this Product
---
More from this collection