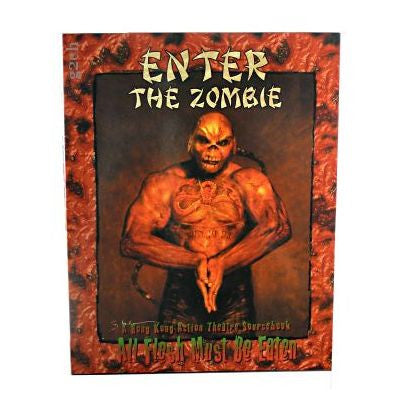 AFMBE RPG: Enter the Zombie
---

Enter the Zombie brings together the thrills of Hong Kong action movies with the walking dead. Lightning fast Kung Fu action, hailstorms of bullets, wandering groups of the dead, Chinese magicians, and undead player characters, its all here and ready to take your AFMBE game in an entirely different direction. Run it as a part of your current campaign or as a totally new dead world.

This book includes information on martial arts, magic, new character types, special chi powers, and new zombie aspects. It also includes rules for zombie character creation; the undead are not such fodder in certain settings. There is also information on modern Hong Kong ("equal parts John Woo and George Romero") and San Francisco ("inspired by John Carpenter's Big Trouble in Little China"), as well as a section with background for stories set in ancient China (classic Kung Fu cinema). There are even details on an arena where the undead battle to the final death (the section is called "Undead Kombat"). Each setting has new archetypes included.

If your group likes Kung Fu action, both your players and the zombie master will thoroughly enjoy this fun fast paced setting. So what are you waiting for? Nail down the furniture, soundproof the game room, and get into some serious undead Kung Fu action today!

Enter the Zombie is a 168 page soft cover perfect bound book with black and white illustrations.

Use of this book requires the All Flesh Must Be Eaten RPG.
---
Share this Product
---
More from this collection