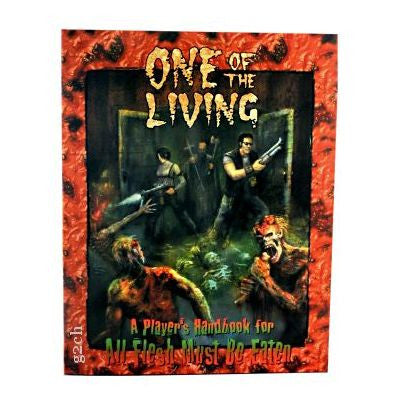 AFMBE RPG: One of the Living
---

One of the Living: A Player's Handbook for All Flesh Must be Eaten is the must have resource for players of the AFMBE RPG. In this book you will find a survivor's section including everything you need to know about surviving the Zombie Apocalypse. There are new qualities, new skills, new drawbacks, new metaphysics, new archetypes, and new equipment you will need to survive. You will also find new rules on Jerry-rigging and scrounging - two critical skills for a post apocalyptic setting.

But this in not just a guide for players! For Zombie Masters there is information on zombie decomposition and new aspects for zombies. There are also six new deadworlds set years after the rise to build campaigns in and details on a tiny village named Sunset Falls where a community of survivors persists. There is also information on the psychological and technological effects of society's collapse. There are even ideas on creating your own "government" handouts for players.

One of the Living is a sourcebook sure to add lots of new ideas and fun to your AFMBE campaign. In the event of a zombie apocalypse, there is just no substitute. Get your copy today and survive!

One of the Living is a 160 page soft cover perfect bound book with black and white illustrations and a full index.

Use of this book requires the All Flesh Must Be Eaten RPG.
---
Share this Product
---
More from this collection